Greeting from dean Eskild Holm Nielsen to Tech employees
Dean Dekan Eskild Holm Nielsen sends an Easter greeting to the employees of the Faculty of Technical Sciences.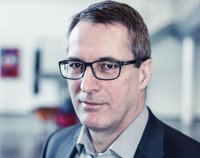 Dear employees at Tech
We've now been working from home work due to the corona quarantine for three weeks, and we're all looking forward to a well-deserved Easter break.
There's no doubt that it has been three challenging and tough weeks – on many levels. Getting working at home to balance with childcare, teaching from home and everything else is not easy, and I commend you all for helping us nevertheless to carry on successfully under entirely new conditions and contexts.
When most of the day passes by working in your own home, work and leisure time can easily merge together, and you may have a feeling that you're never really at work and never really off. But it's important that you really do put work to one side and take time off completely. Because we have to take care of ourselves at a time when everything is so different, and we'll need all our energies when things get back to a more normal working day.
We also need to take care of each other. The exceptional circumstances have changed our jobs, and some people may not be able to work as they normally do, meaning they can offer their competences in a different context. So, call out if you need help with demanding tasks, and if you have extra time on your hands and can offer help to a colleague.
I also encourage you to hold Skype meetings of a more social nature, so that you can keep in touch with your colleagues and secure a little social contact during the day. For example, we've seen Skype coffee breaks, Skype keep fit, Skype after-work bars and many other initiatives. Actually, we can now see that the physical dispersion of our locations at Tech is not very important at this time!
Finally, I would like to send you my warmest Easter greetings to you all, and I hope you have some wonderful days off with your family and friends, together – separately! And I'm looking forward to being able to start work again after Easter, and together with you keeping the wheels in motion.
Happy Easter!
Kind regards,
Eskild