Tech's strategy in practice: AU enterprise develops an intelligent management system for biological processes
In 2020, employees in the Entrepreneurship focus group prepared input for the faculty's joint strategy. The ambition is for Technical Sciences to become a leading, research-based entrepreneurial faculty. Many new companies have already emerged from the faculty, such as Consibio, a biotech company.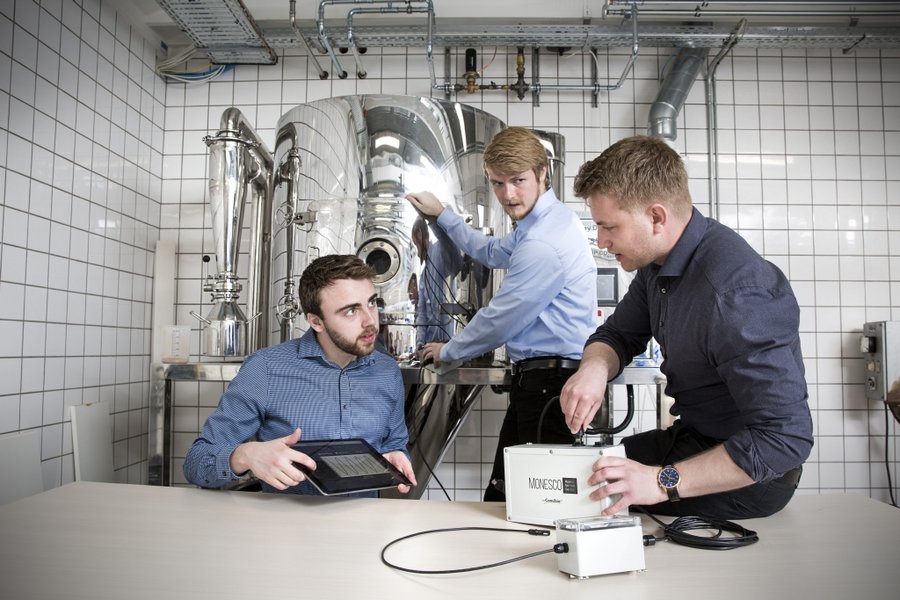 Consibio is a clear example of the entrepreneurship strategy and ambition that the faculty will be following in the future.

The company has developed Monesco, an intelligent management system for biological processes. The system can monitor microorganisms and regulate their growth conditions to keep them optimal at all times. The system is also simple to use and cheap to procure. Johan Thomsen, Emil Jakobsen and Søren Kjær founded Consibio in 2017 while they were studying engineering. Since then, they have worked to mature the technology for their product with a view to commercialisation in the Orbitlab incubation environment and they are now part of Incuba. To start with, Consibio will focus on selling the product to food and production companies, as well as research and educational institutions. They have already received a great deal of interest from industry, and are planning on expanding even further, not just in Denmark but also abroad.
Read more about Consibio and their entrepreneurial journey (in Danish)
Stine Slotsbo from the Department of Bioscience is part of the focus group working on Tech's entrepreneurship strategy. She believes Consibio is a good example of how the faculty can contribute to society by training competent and entrepreneurial graduates.
She also highlights another important part of the strategy.
"Entrepreneurship at Tech is about more than creating spinout companies. It's also about knowledge sharing with business and industry, and collaborating with companies. We have to make sure that our research and knowledge reaches companies, and that it benefits society as well," says Stine Slotsbo.
The faculty should contribute to growth in society by educating graduates who can meet the labour-market demands of the future and who have the courage to set up startups and spinouts. That is why we must be strong in entrepreneurship and forge stronger ties between research and companies.
The focus group's ambition is to turn Technical Sciences into a leading, research-based 'entrepreneurial faculty'. Our inclusive culture and collaborative attitude means that we have a good chance of achieving this. Entrepreneurship, intrapreneurship, innovation, spinouts and start-ups as well as collaboration and knowledge-sharing with companies are therefore all elements that Tech should work with.