Minister visits AU Foulum
The green transition in agriculture, a veterinary programme and, not least, abolishing the requirement to save two per cent of funding (omproriteringsbidraget) were topics for the Minister for Environment and Food, Rasmus Prehn, during his visit to Aarhus University in Foulum.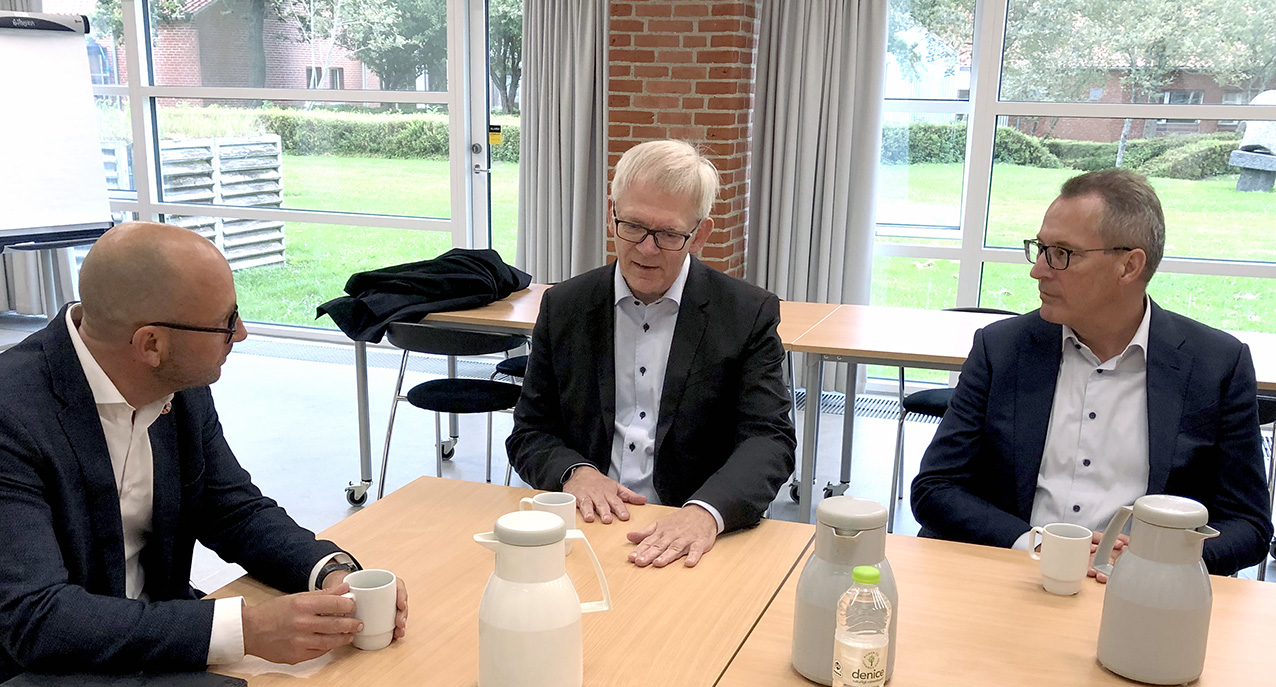 In many areas, research at AU Foulum is a prerequisite for agriculture and associated companies to be able to reduce their impact on the climate, nature and the environment. Research can also make Danish agriculture, food companies and government agencies market leaders in the European and global green transition.
Therefore, it is something of a paradox that the framework grant for public sector consultancy, which constitutes the basic funding for research at Foulum, is subject to an annual savings requirement of two per cent.
Two per cent does not sound like much at first, but this has meant that the grant in 2021 was approx. DKK 138 million less than in 2009, and this has required both cut-backs and redundancies at TECH.
A removal of the savings requirement was therefore high on the wish list that Rector Brian Bech Nielsen and Dean Eskild Holm Nielsen presented to the Danish Minister for Environment and Food, Rasmus Prehn, when he visited the university's department at Foulum on Friday 27 August.
At the visit, Associate Professor Morten Ambye-Jensen from the Department of Biological and Chemical Engineering presented AU's experimental biorefining platform.
Rasmus Prehn had come directly from the inauguration of a large commercial biorefining facility, which was designed based on AU research. He expressed great appreciation for the research efforts that have forged the basis for a green transition in agriculture.
Great interest in veterinary programme
Rasmus Prehn was also keen to hear about AU's work on organising a veterinary degree programme at Foulum.
Head of Department Klaus Lønne Ingvartsen and Professor Charlotte Lauridsen from the Department of Animal Science provided a number of examples of the department's research competencies within animal health, nutrition and animal welfare.
"We're constructively involved in discussions on a veterinary programme," said Brian Bech Nielsen to the minister. But he also pointed out that there are financial challenges in the move.
The Mayor of Viborg, Ulrik Wilbek, who also participated in the visit, was looking forward to welcoming the new students to the area, and he was able to promise a housing guarantee to all the new students moving to Viborg.